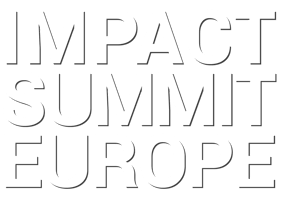 Leading impact investing conference for institutional investors.
EVENT INFORMATION
Impact Summit Europe is an annual 2-day conference and a highly-curated event focusing on institutional investors and asset owners. 2022 edition offers a 2-day in-person programme with a Virtual Area option for the attendees joining from overseas.
When and where does the Impact Summit Europe take place?
_____________________________
The 6th annual Impact Summit Europe will be held on the 29th and 30th of March, 2022 at the Grand Hotel Amâth Kurhaus, Scheveningen, The Hague, The Netherlands.
Are there any remaining Sponsorship opportunities?
_____________________________
Please contact our team for more information via sales@phenixcapitalgroup.com
REGISTRATION
Where can I register for the Impact Summit Europe?
_____________________________

This event is at full capacity. Please see our impact events happening this year. Click here>>
How do I know if my registration is confirmed?
_____________________________
Please check your inbox or spam/junk email folders for the following email:

Registration Confirmed I Impact Summit Europe

2022.
I have a confirmed registration but can no longer attend the event.
_____________________________
• Thank you for letting us know you are no longer able to attend the event, please email impactevents@phenixcapitalgroup.com to cancel your registration.
Should you no longer be able to participate in person - join the conference via our Virtual Area! Email us to request a change your registration to a Virtual Attendee. Go to the Virtual Area page >>
• Any and all cancellation requests received by Phenix Capital Group before Tuesday, 15 March 2022 for Impact Summit Europe 2022 are eligible for a full refund of the fee excluding the administrative charges. All cancellations requests received on or after Tuesday, 15 March 2022 are non-refundable. All cancellations shall incur a deduction of 90 euros (excluding VAT) administrative charges. For our detailed Conference & Event Terms and Conditions, please click here.
Please note the registration confirmation is not transferable. You may suggest a colleague from your organisation to participate instead of you via impactevents@phenixcapitalgroup.com. Each participant would go through an approval process.
May I participate without registration?
_____________________________
No. This is an invite-only and highly curated event. Every attendee must go through the application process or be directly invited by one of Phenix Capital Group team members.
INVESTORCONNECT
_____________________________
InvestorConnect sessions offer institutional asset owners an efficient way to meet a select group of impact fund managers with scalable impact investment opportunities across all asset classes, SDGs and impact themes.
InvestorConnect brings to the investors innovative options to invest with impact.
How many impact strategies will be presented during the InvestorConnect sessions?

_____________________________

30 pre-screened impact strategies will be presented at Impact Summit Europe 2022. Each impact strategy is selected with the following criteria: institutional quality, intended generated impact, targeting market-rate returns. The selection is covering all regions, asset classes, impact themes and SDGs.

Registered institutional asset owners will be able to select the preferred strategies to meet via investor survey.
How does InvestorConnect work?

_____________________________




A series of pre-arranged 15-minute fast-paced meetings are scheduled by our team for the asset owners with the impact fund managers based on their preferences indicated via the investor survey. The meetings will be scheduled during the 3 InvestorConnect sessions of 1 hour, spread over the 2 days of the conference.



I am an asset owner/investor, where do I select the impact fund managers I would like to meet with?

_____________________________

Registered asset owners receive a booklet with information about all presented impact strategies and an investor survey ahead of the conference, where they can select the impact strategies they would like to meet. Our team will schedule the meetings for asset owners over the 3 InvestorConnect sessions.

The investor survey will be distributed to the registered asset owners at the end of February 2022.
Is there a

Virtual InvestorConnect option?

_____________________________

Yes, Virtual InvestorConnect sessions will take place on the 31st of April 2022. This conference will offer the international audience, who are restricted from travelling, a virtual option to meet the presented impact strategies. All registered asset owners for the Virtual Area will receive an investor survey to indicate their preferences and time availability (expected end of February).

A series of pre-arranged 15-minute 1:1 virtual meetings will be scheduled with the impact fund managers selected by the asset owner.
VIRTUAL AREA
The summit's Virtual Area offers asset owners located overseas an opportunity to participate and connect with their peers, listen to the live streaming of plenary sessions, participate in virtual InvestorConnect meetings and access the latest research & reports.
View more information on the Virtual Area page >>
Livestream Plenary programme: 29-30 March
Virtual InvestorConnect meetings: 31 March
COVID-19 SAFE EVENT
The health and safety of our attendees at the event is a priority for Phenix Capital Group. Our team is closely monitoring the regulations and safety advice from the Government of the Netherland to ensure that our events are in line with the measures at any given time.
* Current measures:
As of the 23th of March 2022, all measures related to events will be lifted by the government of The Netherlands. To ensure that vulnerable people are able to travel safely, the requirement to wear a face mask at airports will remain in force even after 23 March.
* These requirements are subject to change according to the government announcements. Our team will send updates regarding the measures in a place closer to the event date to ensure that we continue to provide a safe environment for our attendees. Please take into account that the format or some other logistics may change according to the current pandemic development and Covid-related restrictions.
_____________________________
Additional measures:
Hygiene
Our team works closely with the venue to maintain a high level of hygiene and sanitation for our participants.
THE VENUE & PRACTICAL INFORMATION
Getting to the venue:
_____________________________

Grand Hotel Amrâth Kurhaus
Gevers Deynootplein 30, 2586 CK, The Hague
What is required to get on the venue premises?
_____________________________



• Passport or photo ID - every attendee must go through a security check to access the premises.

• To avoid delays in the programme, we kindly ask you to arrive at the venue no later than 09:30 AM CET.




_____________________________

Registration opens on the dates and times below:
• 29th March at 08:30 AM, CET

• 30th April at 08:30 AM, CET

Please arrive at the venue no later than 09:30 AM CET to ensure you clear security on time.




_____________________________
Grand Hotel Amrâth Kurhaus is located at the beach of Scheveningen. This location is easily accessible by public transport. A tram and bus stop can be found right in front of the hotel. Bus line 23 and tram 9 will bring you to the hotel from The Hague Central Station and tram 1 (direction to Delft) gives you the opportunity to visit the city centre of The Hague.
_____________________________
• The costs for parking on-site are € 41 per day and it is not possible to make a reservation. The number of parking spaces is based on availability.
• You can park your car in one of the following paid parking garages. These garages are within walking distance of the Kurhaus and are open 24 hours a day.
• At Interparking Boulevard you get 10% discount on Hotel / Flex parking via the link above, based on availability. With the Hotel / Flex parking you can park for 24 hours from €17.50.
Dress code

_____________________________

Business
IMPACT DINNER
Date & Time
_____________________________
29th March, 19:00 – 22:00 CET
The traditional Impact Dinner is taking place on the evening of the first day of the conference. This is a curated event, only honorary guests, speakers, delegates and clients who partake in the conference are invited and will be able to join. A limited number of tickets are available for asset owners to purchase during the registration process.
Location
_____________________________
Location: Nieuwe of Littéraire Sociëteit De Witte, Plein 24, 2511 CS, The Hague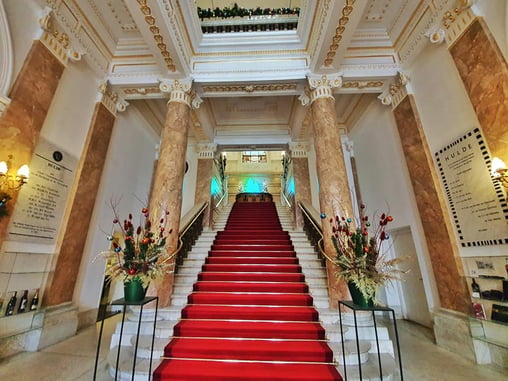 Transportation

_____________________________
The building of Sociëteit De Witte on the Plein is only a 10-minute walk from the Hague's Central Station. Furthermore, the society is easily accessible by tram and bus. The tram departs every 3 minutes from The Hague Central Station. You can take tram line 3 or 4 and then get off at the Spui.
Parking

_____________________________
The Club has no private parking. In front of the building there are a number of parking spaces for the disabled. There is a public car park underneath the Plein, the square in front of the Club House.
Dress code
_____________________________
Strict business attire. Please do not wear any kind of sportswear or odd fashioned clothing.
ADDITIONAL QUESTIONS?
I have additional questions about the event. Who should I contact?
_____________________________
Please contact our events team on impactevents@phenixcapitalgroup.com with any further questions you may have.